On the morning of November 7, 2019, the 7th Canton Nucleic Acids Forum (CNAF) was successfully kicked off in Guangzhou, China. More than 300 participants gathered together to share and exchange top research discoveries/results and industry progress.
CNAF has been successfully held for seven sessions so far, and it is known as a weathervane in the field of nucleic acid technology. The chairman of the conference is Nobel laureate Dr. Thomas Cech (1989 Nobel Prize in Chemistry) and Dr. Craig Mello (2006 Nobel Prize in Physiology or Medicine), the forum aims to create high-end international technology exchanges. The platform promotes the overall development of China's nucleic acid science and biological industry, accelerates the docking of China's nucleic acid industry, research institutes and international platform resources, enhances the dialogue between Chinese scholars and worldwide scientists, and makes China a high-profile nucleic acid science and technology research and industrialization highland.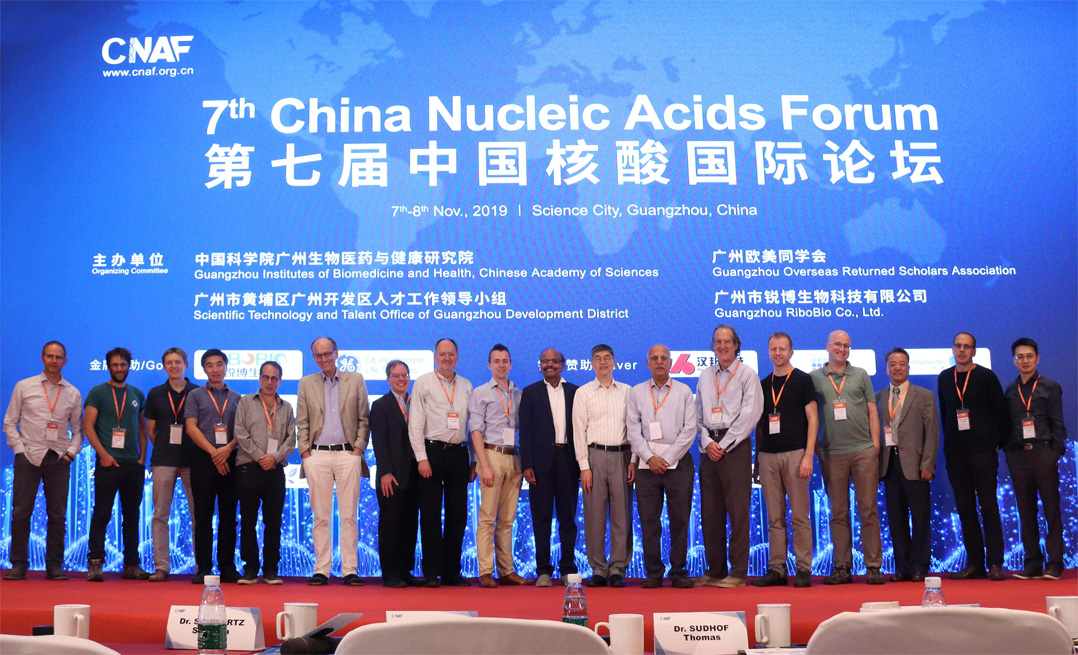 The two-day event is hosted by the Guangzhou Institutes of Biomedicine and Health of the Chinese Academy of Sciences, Scientific Technology and Talent Office of Guangzhou Development District, Guangzhou Overseas Returned Scholars Association, and Guangzhou RiboBio Co., Ltd. Speakers were from the United States, Germany, Israel, Singapore, Switzerland, they contributed wonderful reports of high standards.
This year's CNAF Forum focuses on four major themes:
1. Frontiers in Non-coding RNA Research
2. CRISPR Gene Editing Technology
3. Advances in Oligonucleotide-based Therapeutics
4. Cutting-edge RNA Technologies and Applications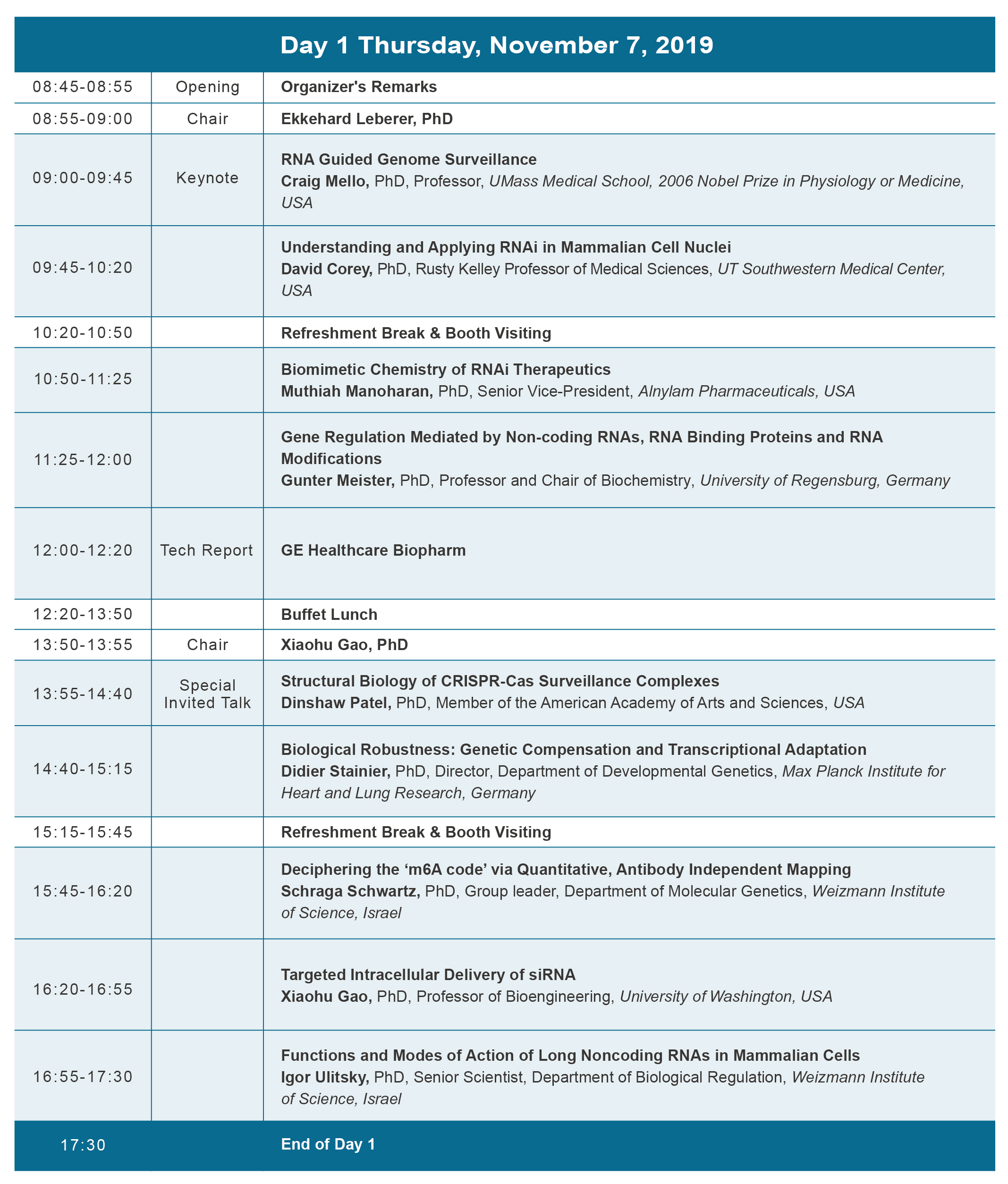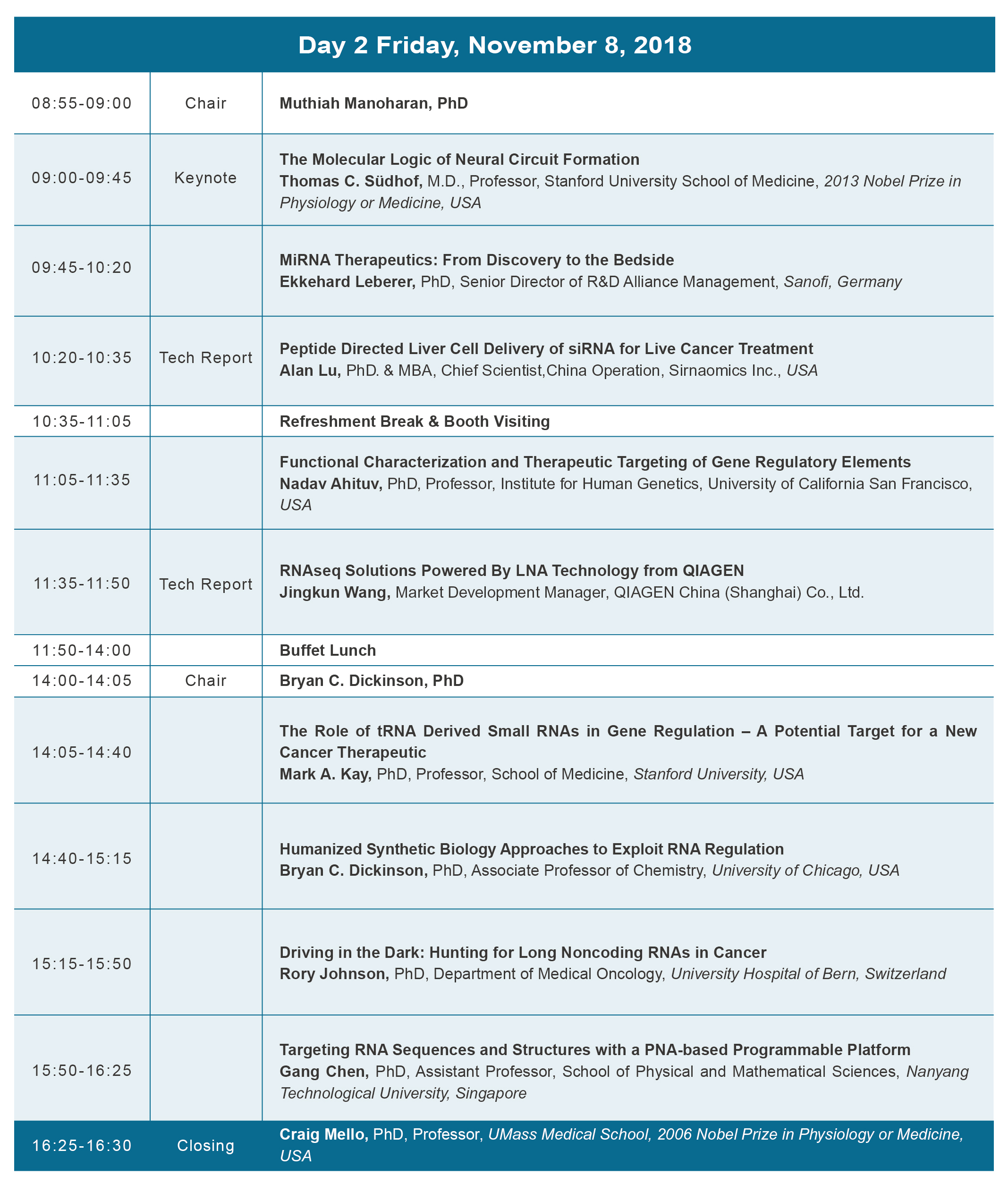 Hundreds of institutions have attended the event this year: including Medical College of Georgia, Massachusetts General Hospital, Tsinghua University, Peking University and Chinese Academy of Sciences. A high-profile lineup of sponsors such as GE Healthcare and various media partners had also made great contribution to the forum.
The 7th CNAF had witnessed the rapid progress of academic and technological innovation in the global nucleic acid field over the past year. It also makes us anticipate the 8thyear to be held on November 12-13, 2020. We look forward to seeing you and taking you on another fruitful journey in Guangzhou next November!