The third Canton Nucleic Acids Forum (CNAF) took place in Science City, Guangzhou on November 18-19, 2015. More than twenty prominent international experts came to share their knowledge and experience in the field of nucleic acids research and applications, including such topics as NGS, CRISPR, ncRNA and RNAi. The Keynote addresses were given by Dr. Eric Green (Director of National Human Genome Research Institute, NIH), Dr. Craig Mello (UMMS Professor and 2006 Nobel Prize Winner in Physiology or Medicine), Dr. Thomas Steitz (Professor at Yale University and 2009 Nobel Prize Winner in Chemistry) and Dr. Jack Szostak (Professor at Harvard University and 2009 Nobel Prize Winner in Physiology or Medicine). The third CNAF was attended by about 400 participants from academy, industry and government, and was covered by the local and national media.
The CNAF is an annual event aimed at exposing the research community in China to the latest advanced in the nucleic acids science, technologies and applications worldwide. The CNAF is also expected to promote and strengthen the dialogue and collaboration between the Western and Eastern scientists. The key subjects for the conference include: 1) frontiers of basic science; 2) cutting-edge technologies; 3) nucleic acids based diagnostics and biomarkers; 4) therapeutics and other applications.
Please join us for the next  fourth CNAF, scheduled to take place in Guangzhou on November 9-10, 2016.
Dr. Eric D. Green, Director, National Human Genome
Research Institute (NHGRI), NIH, USA
(taken by NEW EXPRESS)
Dr. Jack W. Szostak, Professor,
Harvard Medical School, USA
2009 Nobel Laureates in Physiology or Medicine
Dr. Craig C. Mello, Professor, UMMS, USA
2006 Nobel Laureates in Physiology or Medicine
Dr. Thomas A. Steitz, Professor, Yale University
2009 Nobel Laureates in Chemistry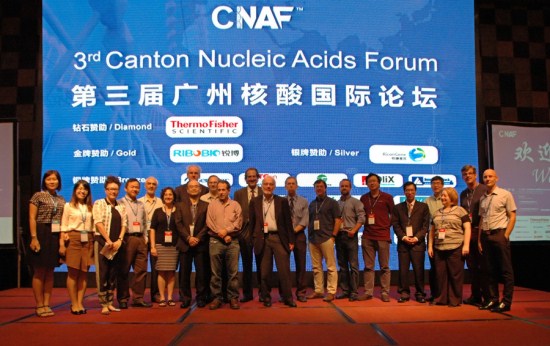 group picture of 2015 CNAF speakers and staff